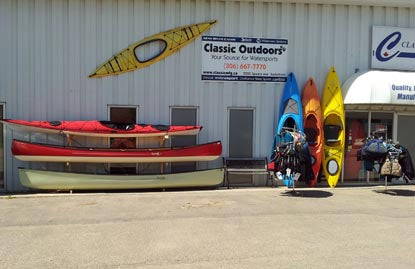 Welcome to Classic Outdoors, Saskatchewan's Outdoor Shop.
In the summer Classic Outdoors is an all inclusive paddle sports shop where beginners and experts alike will find all the gear they need for kayaking, canoeing, stand up paddle boards, and even camping. On our showroom floor you'll find a great selection of Swift, Northern, Nova Craft and Old Town canoes along with kayaks from Swift, Wilderness System, Perception, Dagger, Eddyline, Old Town, Ocean Kayak, and Aqua Glide, and Paddle Boards from Boardworks and Aquaglide.
If you're looking for a roof rack, we also carry a large selection from Thule, Malone, as well as Yakima. Professional installation is included for all our rack customers.
Of course, we enjoy our gear. You will find someone in the store that has an experience with the product on our floor. We don't sell because we have to, we offer the items because we like them! Each item has a special purpose in mind to fit an area of need.
Come meet our friendly staff and talk about your favorite trips you have done, and are planning. Its always good to find the next best trip on our bucket list!
We are located in the heart of Canada and ship Canada wide! We are ready to help you create memories in the great outdoors!!!